We often see the term "lashes on fleek" but sometimes it's hard to decide how to get there. In this blog, we will talk about the pros, cons and differences between False Lashes and Lash Extensions.
What are False Lashes?
False lashes are temporary lashes that you can adhere to your eyelid. They are attached to a band that you then attach to your eyelid. They come in different shapes and sizes to create the look you want for that day. At Lash Star, we have 10 unique styles of  Visionary False Lashes and we also offer our  Visionary Lash Flares, which are individual clusters.
What are False Lashes made of?
Some false lashes use mink hair while others use synthetic fibers to create a natural look. Lash Star continues to take pride in every single product we bring to you, so therefore we stay away from mink lashes and lashes made from human hair. We believe that you can achieve eye catching looks without harming animals or using human hair. All of our lashes are vegan and cruelty free.
How much do False Lashes cost?
The cost of false lashes on the market can vary depending on the quality, look and feel of the lashes. With drugstore lashes, they may be on the more affordable side but you will only get 2-3 uses with each pair. Quality lashes, like our Lash Star  Visionary Lash Collection allow you to reuse the lashes up to 25-30 times, as long as you care for them properly.
How do you apply False Lashes?
False lashes must be applied using a lash adhesive. You apply the lash adhesive to the band of the lashes. Our  Visionary Lash Adhesive is latex free, goes on white and dries clear. This makes it one of the most sought after lash adhesives on the market. We also have a  lash applicator tool that makes applying false lashes a lot easier than just using your fingers.
How often can you use False Lashes?
You can use false lashes anytime, anywhere. They are meant for convenience so you can take them off each night and reapply in the morning. You can also choose what type of lash look you are going for each time you apply false lashes. Learn  how to clean false lashes so you get the most use out of them, while also keeping them sanitary!
What are Lash Extensions?
Eyelash extensions are semi-permanent lashes that are individually attached to your eyelashes by a licensed professional. Many different looks can be created with this method by using different lengths, thickness and techniques to achieve the look you are going for. You can go from adding length to adding volume to enhancing your eye shape with individual lashes. The cost of lash extensions can vary and tipping is part of service.
How long will my Lash Extensions last?
Depending on your lash cycle, lash extensions can last from 2 weeks to 4 weeks before needing to fill in the areas that are starting to shed along with your own lashes. Lash extensions will fall out on their own in about 6-8 weeks, so most people like to refill every few weeks. Lash extensions can compromise your own lashes and lead to the loss of your natural lashes.
What are the Do's and Don'ts with Lash Extensions?
DON'T: Don't wet your lashes for the first 24 hours after your lash appointment. The lash adhesives usually take 12-24 hours to dry so you want to make sure you do not get your lashes wet.
DO: Once the lash extensions are on for 24 hours, you can then wash your lashes with the recommended cleanser your lash stylist has advised you to use. Certain ingredients can break down the bond of the adhesive so you want to make sure you only use the correct cleanser. If you are wearing eye makeup, only use oil-free makeup remover or makeup remover pads and gently wipe away your makeup while avoiding the lashes.
DON'T: Do not pick at your lashes or pull them out. If you need to remove them, whether you have an allergic reaction to the adhesive or because it feels uncomfortable or you just do not want them anymore, make an appointment with your stylist to get them professionally removed.
DO: Brush out your lashes with a spoolie. We recommend our  Lash Styler Brush to tame the lashes that have moved while you were sleeping, while you were in the shower or just when they start to look like they have been on for a while.
DON'T: Do not wear mascara on your lash extensions because the ingredients in your mascara can actually weaken the bond of your lash extensions. Removing the mascara can also damage the lash extensions. If you do decide to wear eyeliner, stay away from cream based products since they have heavier oils that can affect the longevity of your lash extensions.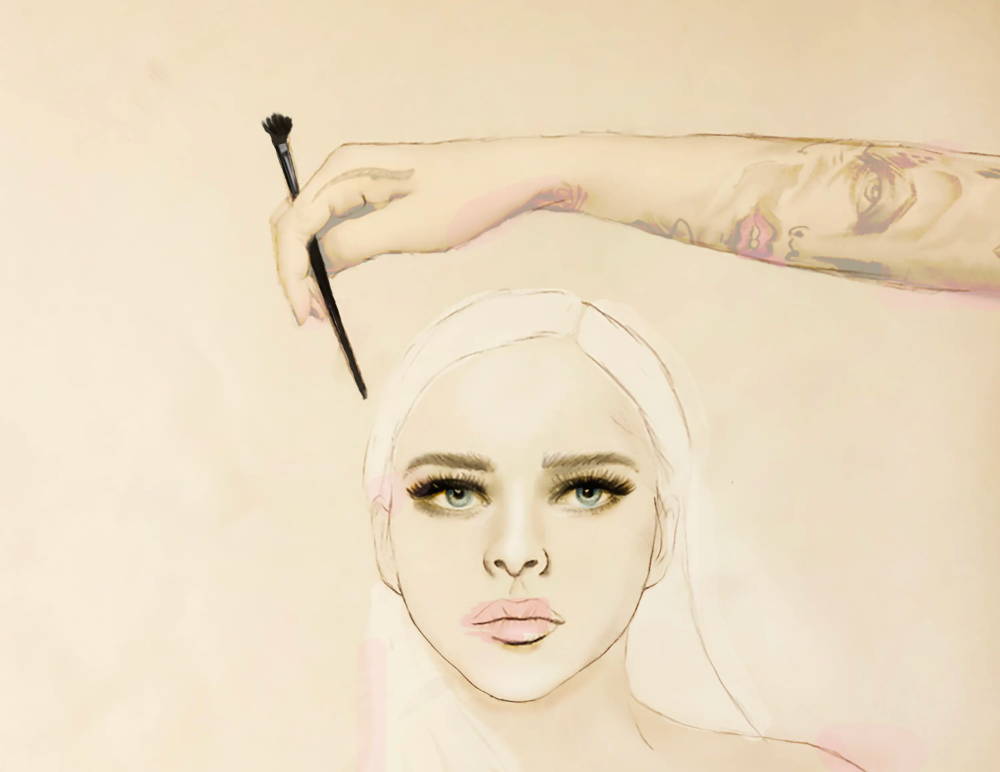 What's the difference between False Lashes and Lash Extensions?
Comfort & Convenience: False lashes can be removed at your convenience and can be applied whenever you want, which also makes them more convenient. Lash extensions have a lot of limitations on what you can or cannot do, but you do wake up with full lashes on every day. Lash extensions can become uncomfortable when sleeping or rubbing your eyes and you cannot remove them yourself.

Price Range: False lashes are more affordable than lash extensions. Using our Visionary False Lashes will give you more value for your money in the long run.. Lash extension appointments can be very costly to maintain.

Daily Upkeep: Lash extensions have to be washed daily as well as brushed. While false lashes just need the lash adhesive removed from the strip when you take them off for the day to keep the residual adhesive from building up.  

Application: False lashes can be applied by yourself once you purchase them. Along with our  Visionary Lash Adhesive

,

we recommend using our  

Visionary Lash Applicator tool

.  With lash extensions, you have to make an appointment which can take 2 hours to get lashes applied and then wait 24 hours before you can allow them near water.
Are you Team False Lashes or Team Lash Extension? If you're Team False Lashes, check out three Visionary Lashes you might just love!